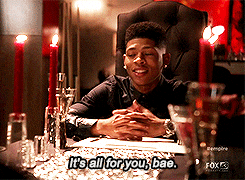 Gen Zers, the next generation to watch are so different from other generations that they speak some divergent shit. These are twenty popping words only Gen Zers can understand.
1.
Adulting-
Short for "adult," meaning maturing or growning-up.
2.
Tea-
another word for gossip.
3.
Woke–
To be aware of pop culture or social issues
4.
Ship-
Often used to describe two people who would be perfect for each other.
5.
Squad–
A group of people or a crew with similar interests.
6.
Fam–
From "family", used to describe someone you're close to and can trust, sometimes used ironically.
7.
Firing Shots-
When someone says something to another person to attack a person. Mostly cynical conversations.
8.
Shaking tables-
Talking about a social issue that may cause societal conflict.
9.
Lit–
Extremely happy or it can be used to describe the mood or atmosphere of a person, place or event.
10.
Draking-
Usually used when describing emotions or feeling emotional.
11.
Thirsty-
When someone looks desperate for attention.
12.
Extra-
Being over the top

13.
Finesse-
The new "on fleek"—when something is very good or cool.
14.
Glow up-
Used to say "can't be stressed"
15.
Yaaasss-
Meaning "Yes" …read more
Source:: Idafrica